I have…
I'm submitting a…
[ ] Regression (a behavior that stopped working in a new release)
[X ] Bug report
[ ] Performance issue
[ ] Documentation issue or request
Current behavior
I've created a rule with this condition


That sends webhook when triggered.
Minimal reproduction of the problem
If I change the status of a content of the schema used in the condition of my rule to Published, the rule is triggered. But if I schedule a content to be published at a certain date/time, the rule doesn't trigger after the publication.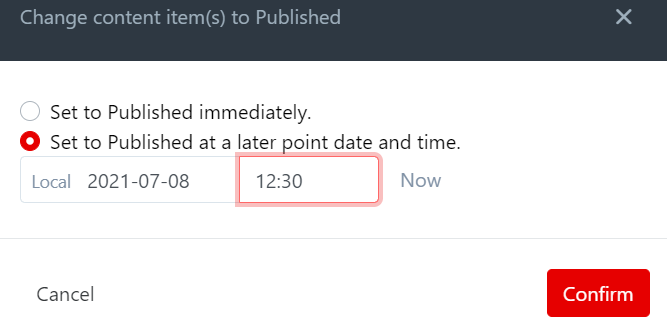 Maybe I should use a different condition in the rule?
Thanks for your help!
Environment
[ X] Self hosted with docker
[ ] Self hosted with IIS
[ ] Self hosted with other version
[ ] Cloud version
Version: [VERSION]
Browser:
[X ] Chrome (desktop)
[ ] Chrome (Android)
[ ] Chrome (iOS)
[ ] Firefox
[ ] Safari (desktop)
[ ] Safari (iOS)
[ ] IE
[ ] Edge