The last couple of weeks and especially today we are having issues with reaching squidex service, the CDN responds with 521, see below: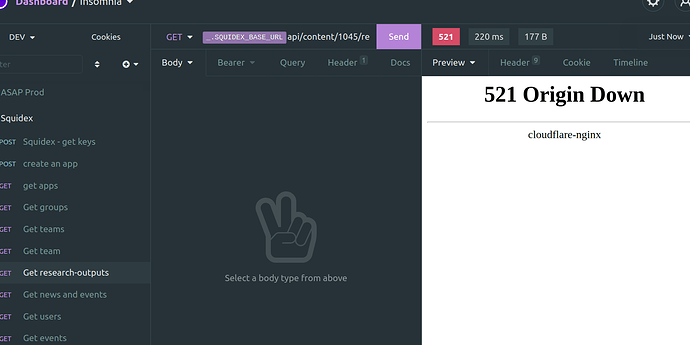 This is affecting our production applications.
The issues do not seem to be reported here
https://status.squidex.io/
Error seems to be intermittent however it usually lasts for about 10-15 minutes and can be replicated across different regions (and can be replicated locally - see screenshot, FYI the url is
https://cloud.squidex.io/
)
I have…
[ ] Checked the logs and have uploaded a log file and provided a link because I found something suspicious there. Please do not post the log file in the topic because very often something important is missing.
I'm submitting a…
[ ] Regression (a behavior that stopped working in a new release)
[ ] Bug report
[x] Performance issue
[ ] Documentation issue or request
Current behavior
Expected behavior
Minimal reproduction of the problem
Environment
[ ] Self hosted with docker
[ ] Self hosted with IIS
[ ] Self hosted with other version
[x] Cloud version
Version: [VERSION]
Browser:
[ ] Chrome (desktop)
[ ] Chrome (Android)
[ ] Chrome (iOS)
[ ] Firefox
[ ] Safari (desktop)
[ ] Safari (iOS)
[ ] IE
[ ] Edge
Others: