I have…
[x] Checked the logs and have uploaded a log file and provided a link because I found something suspicious there. Please do not post the log file in the topic because very often something important is missing.
I'm submitting a…
[ ] Regression (a behavior that stopped working in a new release)
[x] Bug report
[ ] Performance issue
[ ] Documentation issue or request
Current behavior
GraphQL fails to load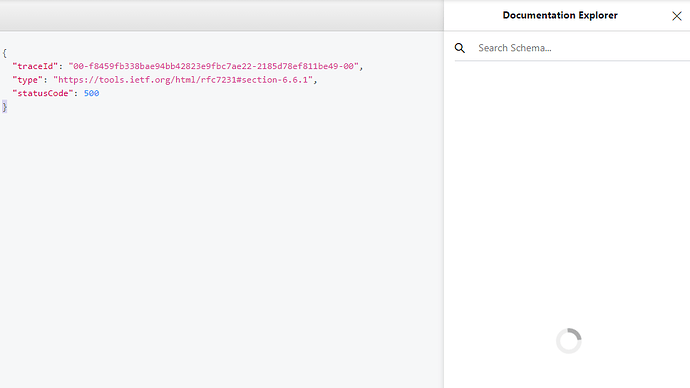 Expected behavior
GraphQL loads with document explorer
Minimal reproduction of the problem
Set up a reproduction at https://cloud.squidex.io/app/graphql-bug
Basically steps are as follows.
Create schema-1 (string)
Create component-1 (string, and reference to schema-1 allowing 1 to n)
Create component-2 (component to component-1)
Create schema-2 (component to component-2)
This setup works without the creation of component-2. However, when creating a component that accesses another component, graphql appears to break down with a 500 error and returns the error Collection was modified; enumeration operation may not execute.
Log to published in next post.
Environment
[x] Self hosted with docker
[ ] Self hosted with IIS
[ ] Self hosted with other version
[x] Cloud version
Version: latest in both cloud and self-hosted
Browser:
[x] Chrome (desktop)
[ ] Chrome (Android)
[ ] Chrome (iOS)
[ ] Firefox
[ ] Safari (desktop)
[ ] Safari (iOS)
[ ] IE
[ ] Edge
Others: