I have…
[N/A] Checked the logs and have uploaded a log file and provided a link because I found something suspicious there. Please do not post the log file in the topic because very often something important is missing.
I'm submitting a…
[ ] Regression (a behavior that stopped working in a new release)
[x] Bug report
[ ] Performance issue
[ ] Documentation issue or request
Current behavior
When a component field has multiple components to choose from, and those components have fields with the same name, then the filtering will just choose one over the other: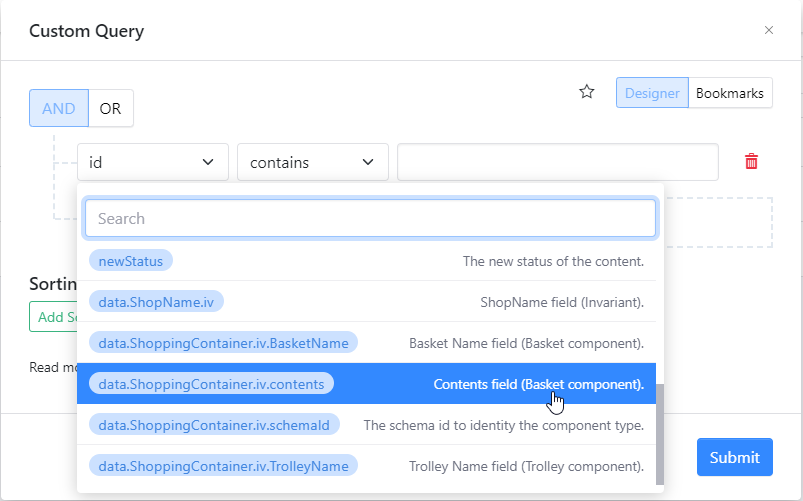 In the above example both Trolley and Basket have a 'contents' field.
Expected behavior
Would expect it to either say 'multiple components', or perhaps a comma separated list of the components with that field but obviously that could be a lot and would be hard to look good with the small amount of space available.
Minimal reproduction of the problem
Create two Component Schemas with Fields sharing the same Name
Create a Schema with a Component field allowing selection between those two Component Schemas
Environment
[x] Self hosted with docker
[ ] Self hosted with IIS
[ ] Self hosted with other version
[ ] Cloud version
Version: 6.6.0
Browser:
[x] Chrome (desktop)
[ ] Chrome (Android)
[ ] Chrome (iOS)
[ ] Firefox
[ ] Safari (desktop)
[ ] Safari (iOS)
[ ] IE
[ ] Edge
Others:
I have not tested what happens when those fields are of different types.