I have…
[x] Checked the logs and have provided uploaded a log file and provided a link because I found something suspicious there.
I'm submitting a…
[x] Regression (a behavior that stopped working in a new release)
[ ] Bug report
[ ] Performance issue
[ ] Documentation issue or request
Current behavior
We use the Squidex Client Library to check if an app exist and if not to create an app with the admin client. Then set the admin user as contributor to this app.
Everything worked fine with Squidex version 3.2.2.
Above this version we always get an exception during our 'Squidex Initialization' Code.
Expected behavior
Create app, assign admin user as contributor to this app, after that init schema and test data.
Minimal reproduction of the problem
Use Squidex Client (3.15.0) and following commands:
…
var apps = await AppsClient.GetAppsAsync();
// if not extist -> create one
…
AppsClient.PostAppAsync(createAppDto);
// Check if admin is owner
var contributors = await AppsClient.GetContributorsAsync(AppName);
(Here we got an exception) if I skip this check, i get an exception with following:
await AppsClient.PostContributorAsync(AppName, assignContributorDto);
The exception: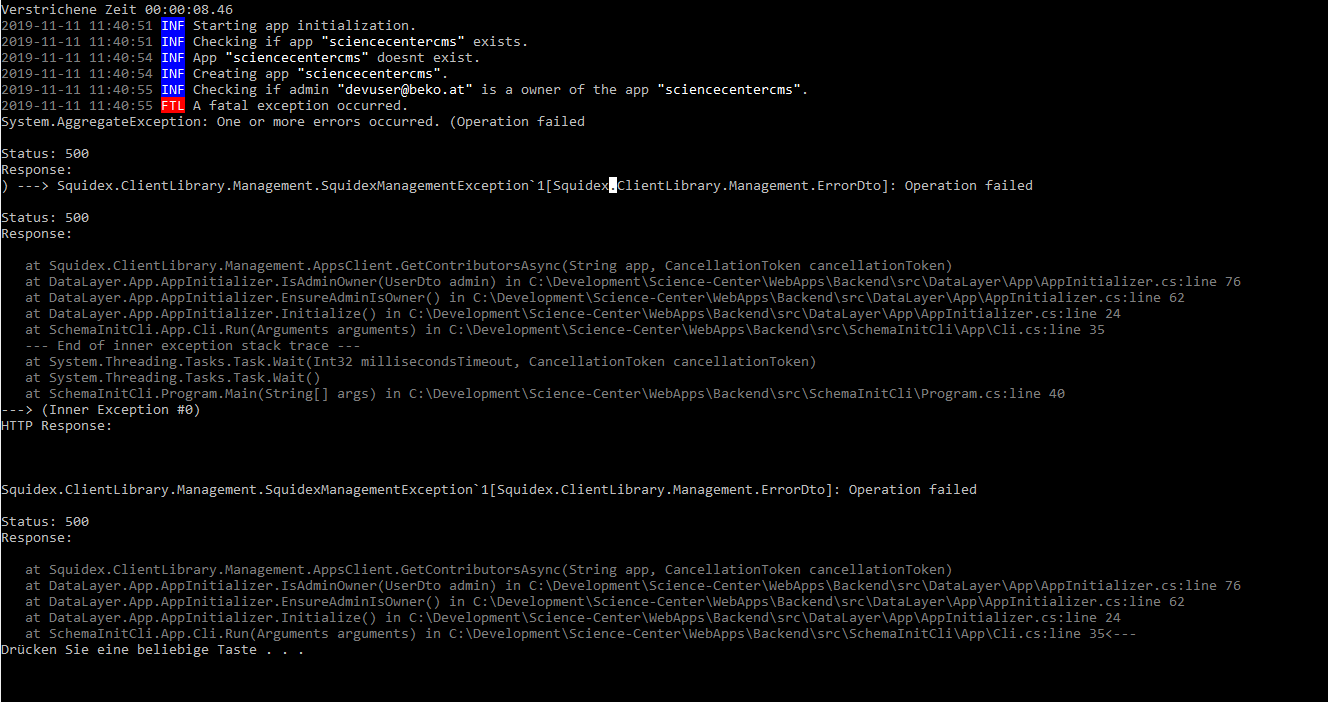 It seems, that the creation of the app works. Because if I rin our code again, an exception with "App already exists" is shown. But I can't see our app in Squidex, because the admin user is not a contributor.
I also checked the logs of Squidex with following Error:


We use the current mongo version 3.6.15
Environment
[x] Self hosted with docker
[ ] Self hosted with IIS
[ ] Self hosted with other version
[ ] Cloud version
Version: 3.5.0
Squidex Client Library: 3.15.0
Browser:
[ ] Chrome (desktop)
[ ] Chrome (Android)
[ ] Chrome (iOS)
[ ] Firefox
[ ] Safari (desktop)
[ ] Safari (iOS)
[ ] IE
[ ] Edge
Others:
Could that be a problem/bug with the mongo db and the admin client?
Thank you very much for your help.