I have…
[ ] Checked the logs and have uploaded a log file and provided a link because I found something suspicious there. Please do not post the log file in the topic because very often something important is missing.
I'm submitting a…
[ ] Regression (a behavior that stopped working in a new release)
[x] Bug report
[ ] Performance issue
[ ] Documentation issue or request
Current behavior
Within the content editor, when navigating between different contents, they sometimes does not show up and editor UI stays empty such if there were no contents added yet, even though there are items in the database and also coming back from the server when looking into the network panel.
After a hard reload of the page the contents show up normally.
Expected behavior
If there are contents added and returning from the backend, I'm expecting them to be filled into the editor GUI. I'm sure this is a frontend issue only, as the server seems to deliver contents just fine (see attached screenshot)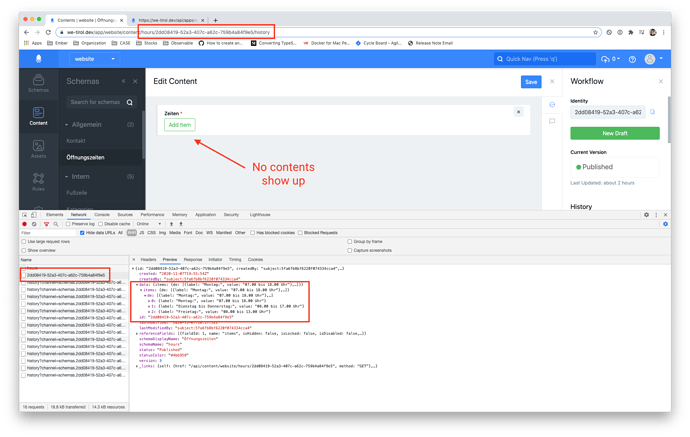 Minimal reproduction of the problem
I can provide a backup and/or my docker-compose.yml for easy reproduction if necessary.
Environment
[x] Self hosted with docker
[ ] Self hosted with IIS
[ ] Self hosted with other version
[ ] Cloud version
Version: 5.3
Browser:
[x] Chrome (desktop)
[ ] Chrome (Android)
[ ] Chrome (iOS)
[x] Firefox
[ ] Safari (desktop)
[ ] Safari (iOS)
[ ] IE
[ ] Edge
Others:
I also tried the latest "dev" tag but the issue still occurs.
There are no errors on the chrome console either.