Hi, I have issue with stability of Squidex instance on Azure docker (fallowed install documentation). After login to management ui, going to dedicated app (in our case blog) and creating some Post the server restarts.
This issue at first look was dedicated to assets, but in few others test without pasting to content/another fields the asset image also cause this issue.
Initially I though that this could be issue of beta squidex version (4.0.0-beta1), but then I migrated to version 4.0.3 -> still same behavior.
In current logs there wasn't nothing logged (maybe we need to enable flag showPII ?), logs seems not be placed after server restarts.
Then I was searching in old logs from few days ago and found something related with mongodb -> MongoDB.Driver.MongoConnectionException.
Here also some image: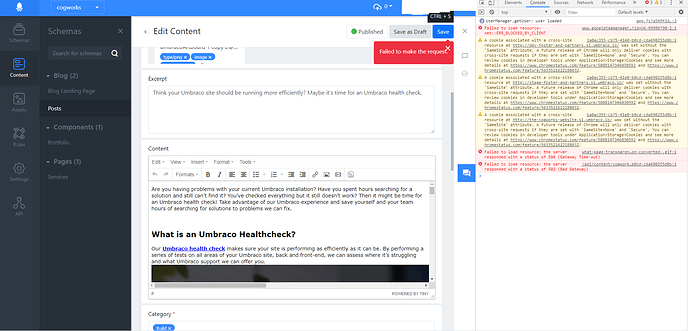 [x] Checked the logs and have uploaded a log file and provided a link because I found something suspicious there. Please do not post the log file in the topic because very often something important is missing.
I'm submitting a…
[ ] Regression (a behavior that stopped working in a new release)
[x] Bug report
[ ] Performance issue
[ ] Documentation issue or request
Current behavior
Expected behavior
Working server on saving content with/without assets (not restarting).
Minimal reproduction of the problem
Creating new Post content
(2). Adding asset
Saving
Step 2 is optional - it take to same error with and without added asset.
Sometimes step 3 is not available cause server restart.
Environment
[x] Self hosted with docker (Azure) (setup from documentation, B1 instance)
[ ] Self hosted with IIS
[ ] Self hosted with other version
[ ] Cloud version
Version: 4.0.3 / Previously on 4.0.0
Browser:
[x] Chrome (desktop)
[ ] Chrome (Android)
[ ] Chrome (iOS)
[ ] Firefox
[ ] Safari (desktop)
[ ] Safari (iOS)
[ ] IE
[ ] Edge
Others:
We also have setup the Squidex Identity Server and using GitHub and Google OAuth. All what we have is single instance (already checked if Orleans is set to Development).
Thanks for helping in this.