I have…
[x ] Checked the logs and have provided the logs if I found something suspicious there
I'm submitting a…
[ ] Regression (a behavior that stopped working in a new release)
[x] Bug report
[ ] Performance issue
[x] Documentation issue or request
Current behavior
After following the https://docs.squidex.io/01-getting-started/contributing-and-developing/developing page, I have got a working login page at https://localhost:5001 (not 5000 as documented), it successfully logins (by debugging) but after redirection it goes back to the login page.
Expected behavior
When I am pulling a fresh code base from github and run the desired commands I would expect at least a working solution.
Minimal reproduction of the problem
git clone https://github.com/Squidex/squidex.git
git clone https://github.com/squidex/squidex-docker
cd squidex-docker/dependencies
docker-compose up -d
(that runs fine)
cd …/…
cd frontend # Go to the frontend
npm i # Install all dependencies, only needed the first time
npm start
Builds and serves normally
Adjust appsettings.json -> insert values for adminEmail and adminPassword
Open another terminal:
cd backend
cd src/Squidex
dotnet restore # Install all dependencies
dotnet run
Builds normally.
Opening https://localhost:5001/ shows the login Page. Opening the popup works as expected, after succesfully logging in the popup closes, the page is loading another page but never completes it.
Console log (chrome):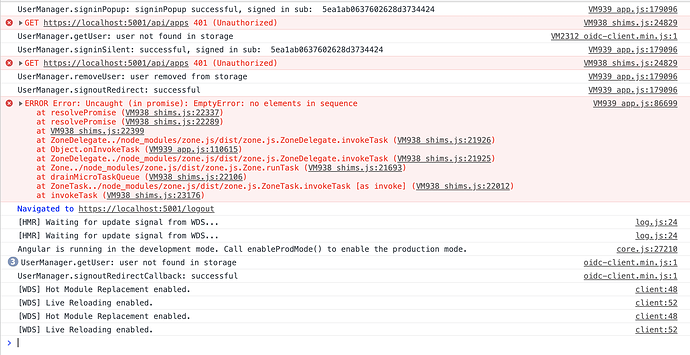 Network tab:
I can only put one image in this post as new user
So it is interesting to see that userinfo can be called successfully, but then the API doesn't let me authenticate.
Environment
[ ] Self hosted with docker
[ ] Self hosted with IIS
[x] Self hosted with other version
[ ] Cloud version
Version: Latest master branch
Browser:
[ ] Chrome (desktop)
[ ] Chrome (Android)
[ ] Chrome (iOS)
[x] Chrome (MacOS)
[ ] Firefox
[ ] Safari (desktop)
[ ] Safari (iOS)
[ ] IE
[ ] Edge
Others:
The whole reason why I am actually doing it via this way is because the docker-way was not working out either. After a lot of file permission issues and mismatch in folder structure from linux (because the docker-compose.yml seems to be written for linux and does not support mac by default). In anyway I got further using this method.