Hello together,
at the moment I am trying to understand the memory usage of Squidex installations to make improvements. Of course the cloud is a very good candidate to collect statistics but I am looking for more data.
If you want to help me you can create either
Process dumps (using dotnet-dump)
Memory dumps (using dotnet-gcdump)
A full tutorial how to do this is available in the docs now: https://docs.squidex.io/01-getting-started/installation/troubleshooting-and-support/diagnose-runtime-issues
If you have a running instance that consumes more than 3 GB (more is better) a dump would be welcome. Just following the tutorial, upload your dump to a cloud storage and send me a link via PM.
Such a memory dump provides a lot of useful information as you can see in the following screen: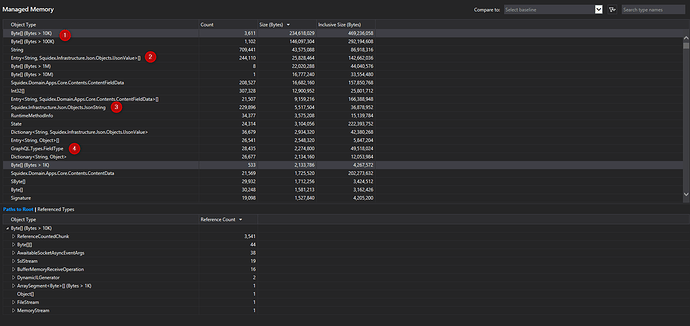 It is possible to analyze the memory usage there:
Most memory is allocated for byte buffers, these buffers are used for:

The web server (kestrel)
The image library to resize images.
The MongoDb driver to read data from the database.

The second interesting entry are cached content entities and it is worth it to have a look, why so many entries are cached.
The json strings are also part of the content entities and part of (2).
The graphql servers also needs a little bit of memory for all the GraphQL types.