I have…
I'm submitting a…
[ ] Regression (a behavior that stopped working in a new release)
[ ] Bug report
[x] Performance issue
[ ] Documentation issue or request
Current behavior
We parse PDF documents and the parsed contents gets stored in Squidex. The PDF is broken into passages and we've below schema to store it.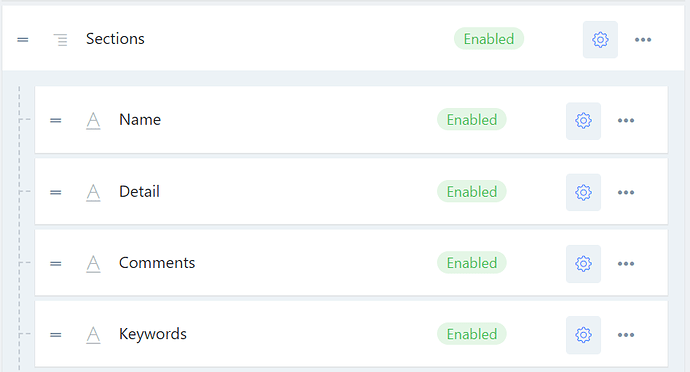 In this schema, "Name" and "Detail" field gets populated with the PDF content and editors will review these fields and type in values in "Comments" and "Keywords" fields. Both the "Comments" and "Keywords" are configured with "Input" editor.
Of late, when we type value in these fields, there is considerable delay for it to appear in the UI form. User has to wait for at least 30 secs or so to see the content they typed to appear in the UI form.
This seems to be an issue when the underlying PDF document size is in MBs. The larger the file, more the number of elements in the Sections array.
Expected behavior
User typed content should appear in the UI as and when they type it. There shouldn't be any delay.
Minimal reproduction of the problem
Not sure of the exact step. But something like below should help in replicating.
Create a schema as mentioned with array as field type and populate it with 1000 items.
Environment
[x] Self hosted with docker (Kubernetes)
[ ] Self hosted with IIS
[ ] Self hosted with other version
[ ] Cloud version
Version: [5.5.0.0]
Browser:
[x] Chrome (desktop)
[ ] Chrome (Android)
[ ] Chrome (iOS)
[ ] Firefox
[ ] Safari (desktop)
[ ] Safari (iOS)
[ ] IE
[ ] Edge
Others: