We are looking to possibility creating dynamic blocks like https://docs.magento.com/m2/ee/user_guide/cms/dynamic-blocks.html
Why: Now, when you have some website, you must hardcore content + blocks. But what if (for example) is homepage like this:
logo
carousel
paragraph title 1
text 1
image
paragraph title 2
text 2
Now, we must create "homepage" as single content and hardcode these elements. But what is somebody wants to add third paragraph, or put carousel bellow first paragraph? If there will be support for dynamic blocks, it will be possible.
Our proposal is to use current features. We propose to use "array" of undefined "relations". For example I create scheme called page and hardcode only "title"/"id","meta" and put there entity "array" and allow to put there "reference" entity without scheme. Now this is possible and if you switch to content, it will looks like this: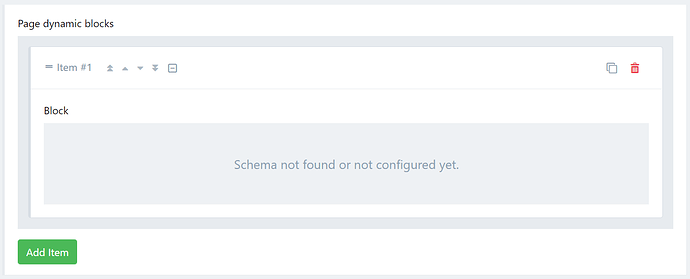 So, maybe If we only allow to dynamically add reference to any existing entity, we can edit content and move dynamic content block.
Note: Using array is only hint how to achive with less programming, there is a better solution adding new data type called "dynamic block" of course.
Thanks for comments !