I have…
I'm submitting a…
[ ] Regression (a behavior that stopped working in a new release)
[ ] Bug report
[ x ] Performance issue
[ x ] Documentation issue or request
Current behavior
Thank you for a good CMS!
Interested in the details of the Event Sourcing concept. The Events2 collection is taking up more and more space. I plan to support the project for years.
I have already changed the tariff plan 2 times to increase the volume of the database. And this is disturbing. Now the volume is 5 GB. Data size 2.3GB and continue to grow.
Is there any mechanism to clean up redundant change history?
For example, store history only for a while or clear it if necessary.
For the RequestLog collection, I see we can minimize the logging level or disable saving completely.
If I clear the Events2 collection, how will this affect the application?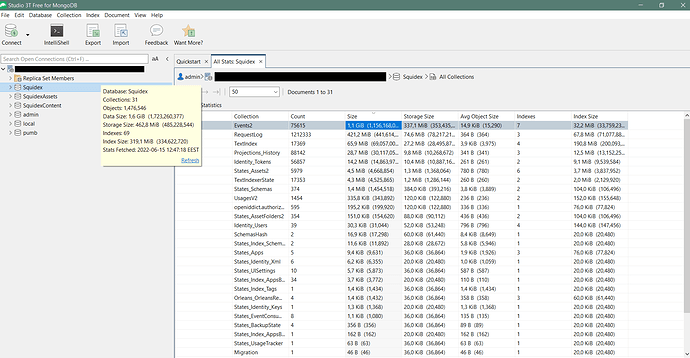 Expected behavior
Should continue to work and not fill the database indefinitely ofcourse))
Minimal reproduction of the problem
Lots of content updates for some time(less than a year)
Environment
App Name:
[ x ] Self hosted with docker
[ ] Self hosted with IIS
[ ] Self hosted with other version
[ ] Cloud version
Version: 6.4.0
Others:
Interested in links to other mechanisms for managing performance and data storage volume in squidex