I have…
[ ] Checked the logs and have uploaded a log file and provided a link because I found something suspicious there. Please do not post the log file in the topic because very often something important is missing.
I'm submitting a…
[ ] Regression (a behavior that stopped working in a new release)
[ x ] Bug report
[ ] Performance issue
[ ] Documentation issue or request
Current behavior
Expected behavior
The display pattern for a DateTime field should be used in the Content form editing view for that field.
Minimal reproduction of the problem
Step 1: set the pattern for the DateTime field as in the image below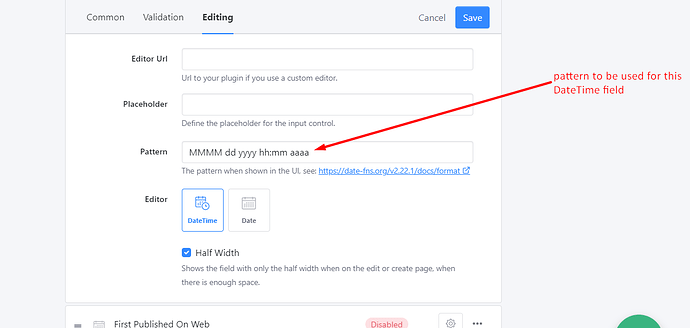 Step 2: go to content and add a new data record. The date / time displayed is not using the pattern defined for the field in the schema definition. See the image below:


Environment
[ x ] Self hosted with docker
[ ] Self hosted with IIS
[ ] Self hosted with other version
[ ] Cloud version
Version: [VERSION]
Browser:
[ x ] Chrome (desktop)
[ ] Chrome (Android)
[ ] Chrome (iOS)
[ x ] Firefox
[ ] Safari (desktop)
[ ] Safari (iOS)
[ ] IE
[ x ] Edge
Others:
The same issue applied to other areas like the popup displayed to pick a future date / time for publishing content.
That date / time format should also take into account the current culture date / time format settings.